Il Segretario delle Nazioni Unite Ban Ki-moon annuncia  il lancio di un'importante campagna con la partecipazione dei sindaci per realizzare il più grande sforzo possibile sul pianeta per combattere le emissioni di GHG provenienti dalle città.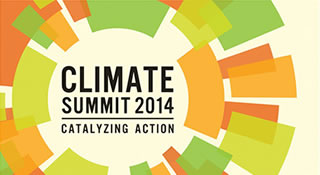 United Nations Secretary-General Ban Ki-moon and UN Special Envoy for Cities and Climate Change Michael R. Bloomberg today announced the launch of a global Compact of Mayors, the world's largest effort between cities to fight climate change to date.
"Cities are drivers of progress and innovation, and by taking this step, they can help nations set new, necessary, and aggressive GHG targets over the next year." Special Envoy Bloomberg said.
The Compact will enable cities to publically commit to tough greenhouse gas (GHG) emissions reductions; make existing targets and plans public; and report on their progress annually, using the same rigorous, transparent approach to measuring and managing their climate action plans as nations.
The Compact of Mayors builds on the ongoing efforts of Mayors that set increasingly ambitious, voluntary city climate commitments or targets for GHG emissions reduction and to address climate risk. The reported progress towards achieving those targets will be made publicly available through a recognised reporting platform, the carbonn Climate Registry.
Key partners of the Compact of Mayors are the world's preeminent global city networks, C40 Cities Climate Leadership Group (C40), ICLEI – Local Governments for Sustainability (ICLEI) and the United Cities and Local Governments (UCLG) with support from the UN's lead agency on urban issues UN-Habitat.
"The Compact is more than a new political commitment. It is an additional locomotive to speed up and scale up transformational climate actions that the world urgently needs right now", said Juergen Nimptsch, Mayor of Bonn and a leader in ICLEI mayors network.
To read the press release in full, click here 
For more information:
To stay in touch:
Follow ICLEI at the UN Climate Summit 2014 at www.iclei.org/climatesummit2014.
Live updates via twitter: @ICLEI & @ICLEI_carbonn, and by following #citiesact #climateactiondata #climate2014.